The loans granted in January plummeting
(warning google translate)
The amount of loans granted by banks recorded a very sharp decline in January, falling 25.7% over the corresponding month of 2011, according to a study by the Observatory Credit Housing / CSA ​​published Monday, February 6.
"The year 2012 did not start very well. In a sluggish economy, the backlash movement anticipation of the end of 2011 is significant," notes the study. On a monthly basis, the collapse is indeed brutal: - 49.4% between December 2011 and January 2012 (after already falling by 34.1% between December 2010 and January 2011). "It's a blow. The fall is comparable to 2009, when the U.S. subprime crisis, "said Michel Mouillart , professor of economics at the University of Paris West and industry expert.
Surprised they held out that long, given the environment there.
As you can see from the
Economist's Clicks and Mortar
graph. France is between Canada and Australia for bubbling on the measure of prices relative to incomes.
Oh my, that doesn't capture the situation.
Borrowed from
bulle-immobiliere
Hat Tip: Makaya commenting at Vancouvercondo.info
Added: per discussion of Australia's line on the chart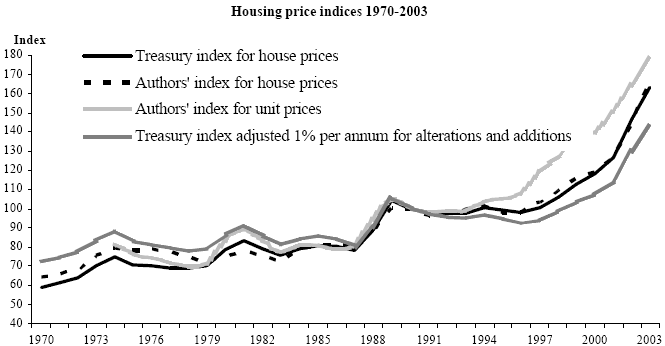 Australia house prices 1970-2003
Chart from Abelson, Joyeux, Milunovich, & Chung
Looking at this, you can really see the market cycle peaks. 1974, 1981, 1989, ????. And what a markedly V shaped "recovery" in 1987. No wonder people want to jump into houses at the first sign of a upward move in Australia, they have been trained to it.
Here is a chart of disposable income. On a log scale.
Real Gross Disposable Income, Australia 1970-2003
from Abelson, Joyeux, Milunovich, & Chung
It looks like there was a burst in wage levels from 1970 to 73. By 74/75 that growth had stabilized to what became the normal rate for the next two decades. The peak in the market above is 1974. Looks like there was an overshoot on prices in that year, or overbuilding that left the market saturated. Or both?
I turned on a few more lines for reference. This chart is zeroed to 1984, which makes it easier to see. 83, 84, 85 were pretty stable years for prices.